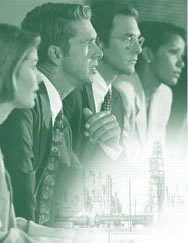 For 13 years, EPA has consistently met the hiring needs of clients in the environmental field and continues to lead in specialized services. Our success lies in the ability to adapt and expand our recruiting services in accordance with growing personnel demands of the environmental industry. Headquartered in Houston, Texas, one of the nation's leading influences in the industry, EPA has first-hand access to innovations and advances made within the field.
Participation in Trade Shows throughout the country presents invaluable opportunities to interact with industry professionals and learn the latest environmental health and safety processes, regulations, and compliance issues.

EPA has focused on recruiting EH&S Directors and Managers, Environmental Engineers, Air Quality Permitting Engineers, Water and Wastewater Engineers, Chemists, Process Safety Engineers, Remedial Construction Engineers/Managers, and Business Development Professionals. To see more of the areas EPA specializes in CLICK HERE.

Six yeas ago EPA expanded its services to include EH&H technology professionals that include Environmental Management Information Systems (EMIS) professionals.

This year EPA has expanded its services again to include Legal Professionals.

Committed efforts to meet clients' growing demands combined with environmental expertise and recruiting experience make EPA the ideal partner to accomplish your staffing goals.