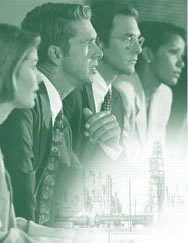 Our search begins by obtaining a clear understanding of the client's organizational goals to adequately represent their interests.

In addition to the technical requirements and duties of a position, we encourage direct input from corporate clients that details organizational requirements, specialized needs, and preferences. When applicable, EPA collects additional data relevant to the organization, the position, and/or industry standards to complete the planning stage. EPA compiles a candidate profile based on the information gathered.

While employment recommendations are based on the criteria set forth by a corporate client, companies rely on our understanding of the environmental industry and our recruiting experience to locate a successful match.

EPA's recruiting staff possesses working knowledge of the environmental industry that is imperative to conduct an effective search. We have networking relationships with environmental professionals and industry leaders, which are a valuable asset to our recruiting searches. Our proficiency in the terminology and technical aspects associated with environmental health and safety positions enables us to accurately assess candidates' qualifications.

In conjunction with Industry expertise, EPA administers a rigorous selection process. EPA employs both quantitative and qualitative means of evaluation to find the ideal candidate. We use software technology to identify the highest ranking candidates, in terms of credentials, experiences, and/or other measurable assets. EPA performs comprehensive interviews on these individuals to analyze how well they match the corporate client's profile. A candidate's individual career aspirations are also considered to ensure an equally beneficial and long-lasting relationship. The most qualified, viable recruit that emerges as the best match will be submitted as our final recommendation.

EPA recruiting methods have repeatedly produced accurate results, and we fully support our services. We maintain open lines of communication with our clients to verify their satisfaction, and we support our recommendation with a written guarantee.
To see information on the types of Seaches EPA offers CLICK HERE.